12.12.2019
Over 70 children were waiting for Santa Claus on the Lodz Airport apron singing and calling "Santa Claus! Santa Claus!" Finally, he arrived! The long-expected guest got out of the Bartolini's plane with a sack full of sweets. At the airport, Santa was greeted by Anna Midera, CEO of Lodz Airport, house-elf Treat and our Snowflakes – female volleyball players of ŁKS Commercecon.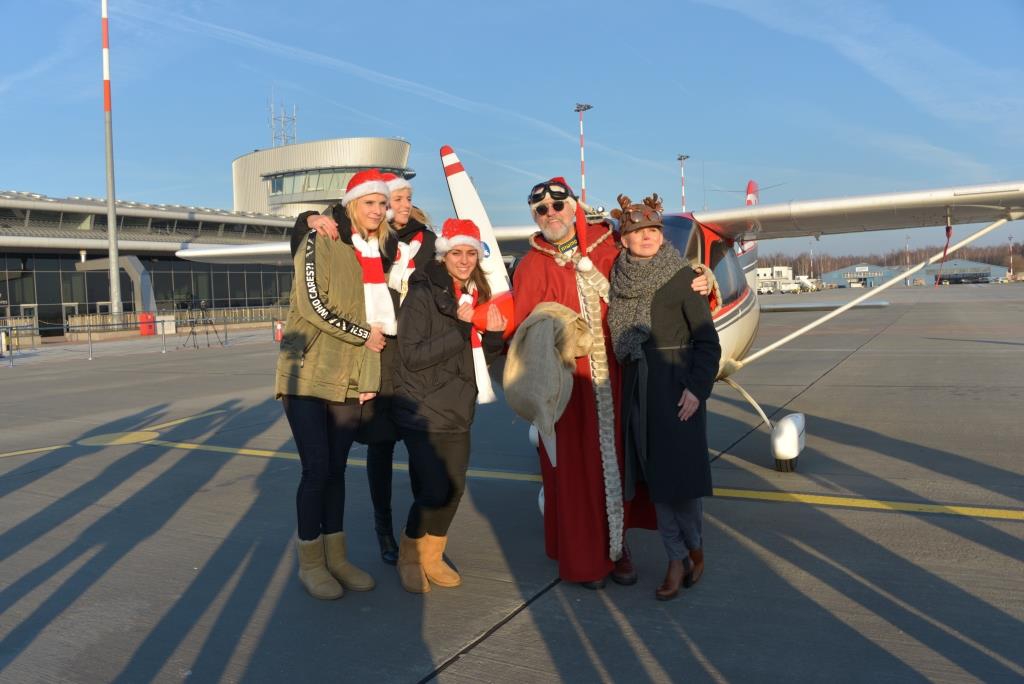 "Ho, ho, ho! I came to Łódź for the third time because there are very good children here, "said Santa Claus. He announced that he will come back to the Lodz Airport this summer because he plans to fly from Łódź to one of the Greek islands to rest after the busy winter season. "I heard that you have a very rich offer of charter flights from Lodz to Antalya, Bodrum, Burgas, the islands of Corfu, Crete, Zakynthos and Rhodes" - praised our Santa.
This is the third edition of the "Santa's Landing" charity event. This year, the Lodz Airport has invited over 70 children from orphanages, Single Mother Homes, and Foster Families. Traditionally, children brought handmade decorations which they hung on the Christmas tree in the Departures Hall.
Thanks to the generosity of our sponsors, we were able to give children gifts, including mascots, books, sweets, socks, hats, water bottles, flashlights, and thermal mugs. The volleyball players of ŁKS Commercecon gave the children tickets for the match, which " Squirrels" will play with the Italians. And everybody went home very happy.
See our films from this event:
ŁKS Commercecon Łódź
Smyk
Bartolini Air
Lagardere Travel Retail, Dell
Teatr im. Stefana Jaracza w Łodzi
KKMP Prawo i Podatki, Marilyn
Kwiecień i Partnerzy Bezpieczeństwo Informacji i Ochrona Danych
Car Bone Liveries
Porsche Centrum Łódź
Azymut.pl
Panu Damianowi Karbowiakowi
(fot. A. Amerski)